SailTimer™ app

For iPad, iPhone, iPod.

ADD CHARTS IN THE APP:
Seamless quilted charts automatically move from one to the next. Free updates; you do not need to re-purchase the same chart next year.
New Zealand $17.99: Official LINZ charts including areas of Antarctica and the South-West Pacific.
US NOAA chart regions $15.99: Atlantic coast, Pacific coast, Gulf coast, Great Lakes, Alaska.
Canadian chart regions $21.99: Atlantic coast, Great Lakes - Manitoba - Arctic, Quebec, and Pacific coast.
UK charts £16.99: All of the official charts for England, Scotland & Ireland.
Free: Aerial photos and land maps of the entire world.


1-minute demo:
How to see your optimal tacks
and Tacking Time to Destination


How to use the
Sailtimer app with the
SailTimer Wind Vane™



SailTimer: Optimal tacks and TTD ®
Sailboats often tack to their destination, which affects the distance and travel time. But even the most expensive GPS chartplotters don't know how far your tacking route is, so how can they calculate the ETA correctly? The SailTimer app solves this problem.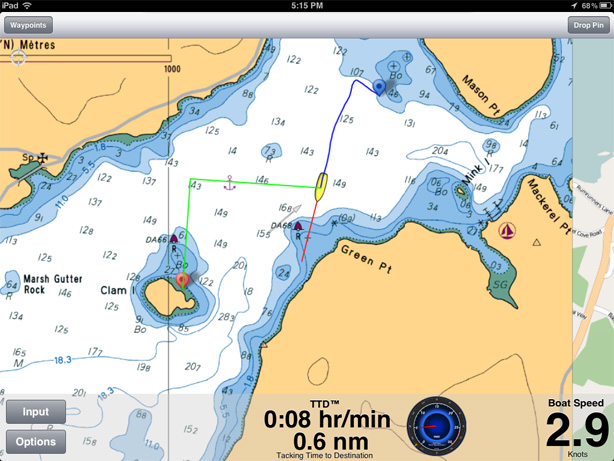 The SailTimer app provides an instant display of your optimal tacking route, distance and Tacking Time to Destination (TTD ®). It can also learn polar plots for your individual sailboat, to provide more precise tacking results.
This changes everything. When sailing upwind (or on any point of sail), you can know whether to head off the wind to get more speed (but at a longer distance), or beat closer to the wind to reduce the distance (but at lower speed). Traditionally that is known as The Helmsman's Dilemma. Now, you can use the patented SailTimer tacking results to easily display the precise distance, time and heading on each tack. No more guessing, or superstition, or being hours late getting there. This fundamentally changes sailboat navigation (and racing).
Out of the thousands of apps available, this is the only app that calculates your optimal tacks based on your tacking distances, and displays them as a chart overlay.




Update tacking results automatically as the wind changes, with our solar-powered, wireless anemometers. The original
SailTimer Wind Vane is here. The next generation is at SailTimerWind.com.

Waterproof DryPak
for iPad/iPhone. Or hard cases from Lifeproof, Griffin, Lifejacket and LifeEdge. iPadNav.fr has a great selection of mounts, cases and other accessories for sailboat navigation in the age of mobile devices.



Cockpit mount such as MagConnect with waterproof hardcase, Lifejacket mounting bracket, universal waterproof case mount, or others from Vogel's or RAM.

If your iPad does not have GPS, Bluetooth GPS receivers are available from Dual, Bad Elf and GNS.

How to Use | FAQ | Media Coverage | Newsletter
Why VMG/ETA Are Obsolete | Corporate | Contact




Copyright 2005-2015 (c) SailTimer Inc.